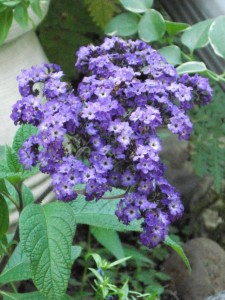 "Faith is being sure of what we hope for and certain of what we do not see." (Heb. 11:1)
There is no evidence of spring in my yard. I don't count the robin I can hear, but that hasn't shown his face. He's probably busy learning how to knit a new sweater pattern.
However, I know spring is coming, so I removed the snowscape photo from my blog (see right) and replaced it with a flowerbed shot from last summer. Even the faded, late-summer blooms are enough to buoy my spirits and remind me that winter is on its way out and spring will arrive as it always does.
This long, trying winter has greatly reminded me of Narnia: "always winter and never Christmas." I will keep my eyes fixed on the blossoms of summers past — the certainties of what I know by faith, but cannot see. I know the flowers will bloom again.
And so can we.
[Above: The heliotrope, with its tiny purple blooms, is the most fragrant flower I've ever sniffed!]