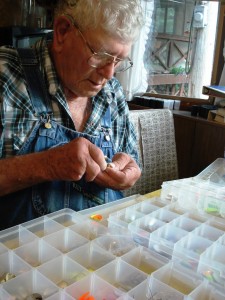 With gnarled fingers, missing a few digits from farm accidents, Lawrence painstakingly fashions a pair of earrings from fishing spinners.
For years, I secretly called Lawrence, "The Man Who Came with the Resort," because he'd lived in the trailer on the property before the current owners took over. He was the maker of cookies and bars that appeared on the resort office table, the one who showed up with tubs of homemade ice cream — strawberry, raspberry, pineapple, and myriad other tantalizing flavors. He was on the dock the first thing every morning with a smile, a story, and a twinkle in his eyes. He generously doled out the best sweet corn I've ever tasted, fresh from his brother's farm in Iowa and kept cold on ice all the way to the northern Minnesota border lake.
And he made earrings from fishing tackle spinners. I'd seen his handiwork on the ears of the resort family women and I'd always wanted a pair, but I felt uncomfortable asking. I knew he refused to take money for them, and I didn't want to impose on his stock or his time. This year, for some reason, I asked. And Lawrence said of course he'd make earrings for me — all I had to do was stop by his trailer. So I did. I left with not one pair, but three. He kept making them and dropping them in front of me on the table.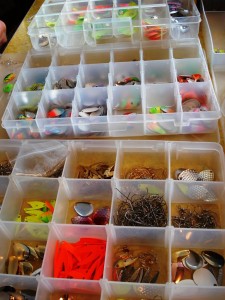 A small portion of his earring-making materials.
One finished pair.
The best part of visiting Lawrence wasn't the earrings, although I'll cherish them as unique souvenirs.
The best part was hearing him tell stories.
Before he got out his plastic trays of spinners and his pointy pliers, Lawrence began spinning tales of early days on Kab. He told of a fishing guide who used a rowboat and charged $10 with a guarantee of catching a limit (before the days of slot sizes). A native of Iowa, Lawrence admitted that he'd told one of his kids that he wouldn't have been born if he had known such beautiful country existed. He would have headed north before meeting his wife and having his family in Iowa.
I could have sat there for hours, listening to his stories. He didn't want to take up "my" time, though and got out his earring materials after half an hour. Then he shooed me out the door to the dock where a tub of homemade pineapple ice cream was waiting.
I would have posted a photo of the ice cream, but it never lasts that long.
Good times, good memories . . . good stories from Lake Kabetogama.