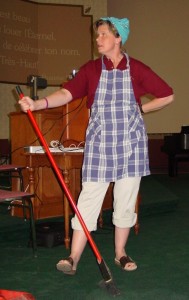 I had a brief, but interesting conversation with my 13-year old last weekend.
A drummer, he said, "I usually have drum beats going through my head."
"Even at school?" I asked.
"Yeah, all the time."
"I understand," I replied. "I like to sing, so I usually have song lyrics playing in my head."
"Ones you know?" he said. "Or ones you made up?"
"Songs I've heard," I said.
He hears and composes drum beats in his head. As I pondered a part of my son that I never knew before, I realized that my original, creative thoughts involve "composing" words. While I love to sing music, I don't feel led to "make" it. However, depending on the project at hand, I often create skits (as in above photo), speeches, essays, or projects involving words in my head.
Left brain or right brain, everyone creates in different ways. What tapes play in your head?